Welcome to Manchester Street Poem
Manchester Street Poem is a co-produced art collective whose works reflect the personal experiences of our city's marginalized communities. Guided by the principle that there is "no us and them – only us", we aim to promote this viewpoint through art and storytelling in the belief that by exploring our shared humanity we can break down barriers.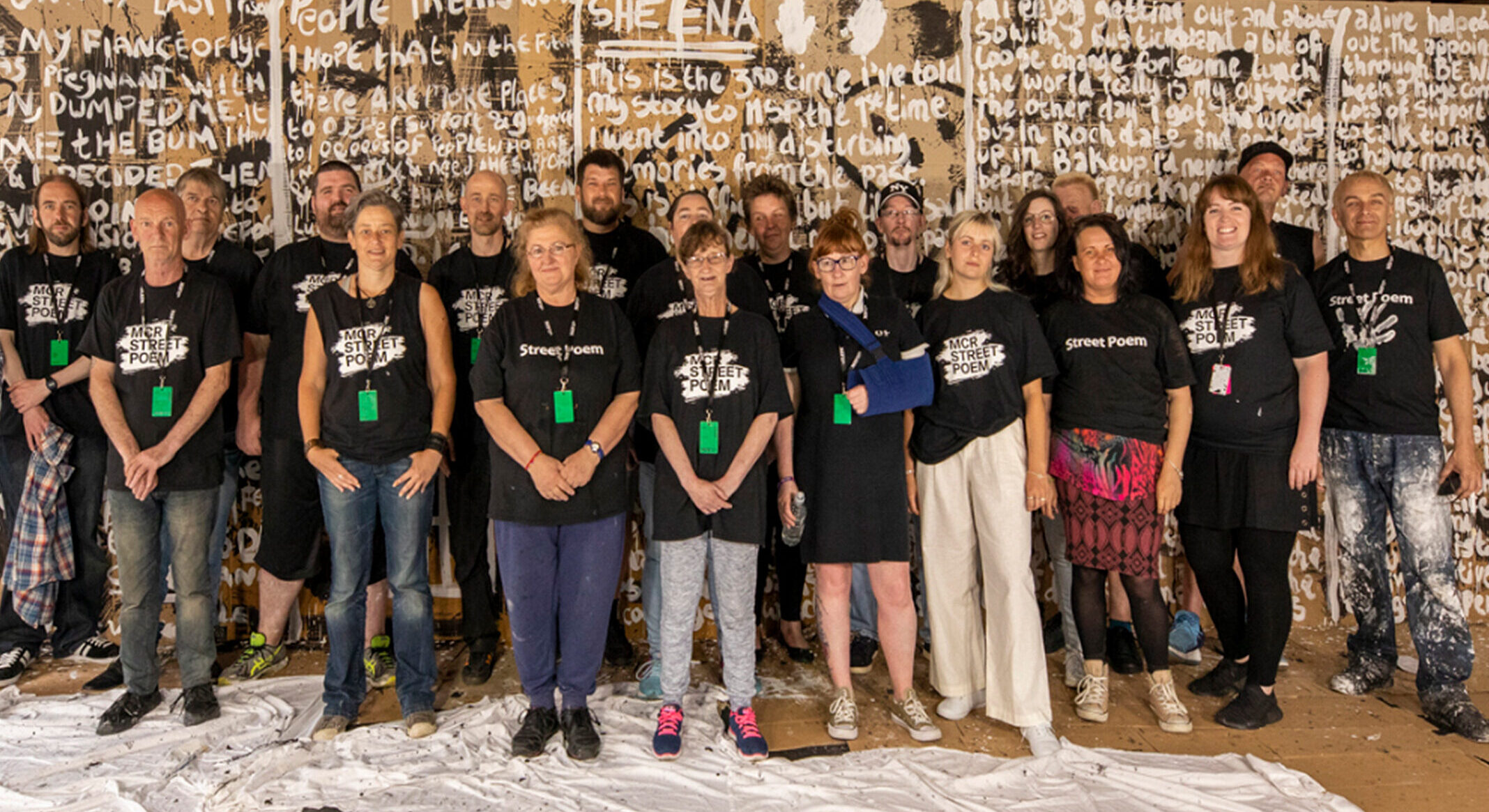 About Us
Manchester Street Poem started as a project in 2016, when Karl Hyde from the band Underworld, along with representatives from Manchester International Festival (MIF), approached members of Manchester Homelessness Partnership's Arts & Heritage group. The group had a rich history of arts and homelessness work in our city, and of collaborative projects between the cultural and charitable sectors.
A working group was formed to help find solutions to the dehumanizing of fellow citizens living on the streets who are 'blanked out' and walked past. We believe that through the sharing of personal stories connections and bonds are built in our society that counteract the long-term destructive effects of being ignored – "no us and them – only us". Together we coproduced the process of collecting the stories that would populate our very first installation at MIF17. We created a community in which people feel safe to share their stories.
Since then we have opened up to everyone as we witness the benefits of our work throughout society. Our methodology is co-production, collaboration and participation: bringing disparate people together as equal contributors and finding common paths to creative expression.
Our strength lies in our diversity: among the group is a vast resource of lived and professional experience of homelessness in the city: artists; employees and volunteers from various charities addressing homelessness and inequality; and workers from cultural and civic organisations. Working together outside of structural roles, we continually shape one another's understanding and practice and ensures that everything we embark on we do with integrity and a duty of care to contributors.
International Arts & Homelessness Festival

February 4, 2021

With One Voice – Japan

February 24, 2021

Cardboard Catwalk

March 11, 2021

Box on the Docks

March 22, 2021

BOTD Phase 2: MSP's Winter Trees

September 19, 2021

BOTD Phase 3: MSP's Freedom Trees

September 19, 2021
Workshops
Workshops are the backbone of our ongoing activities, both within our core group and with organisations such as Centrepoint and Mustard Tree who recognize the positive application of our work in helping members of their communities.
The workshops consist of exercises around creative writing and artistic expression, all with a keen focus on boosting self-esteem and creating meaningful connections. During each session we focus on a different topic (friendship, community, hope etc.) and produce personal and inspirational quotes presented as individual works of art.
To be able to meet physically; spend time with supportive people; and share a cuppa, laughter and conversation became the real benefits of being part of the 'MSP Family'. Everyone knows this is a compassionate safe space, where the ethos is one of positivity, care and good mental health.
Even lockdown – which meant no physical meetings, and with that the potentially life-threatening realities of isolation and depression – couldn't stop us. It was imperative to find a way to maintain contact and the benefits of all the workshops offer which we did by moving online (thanks to the swift support of MIF who supplied us with tablets and data).
We've sustained the benefits that everyone experienced pre-COVID but this time online has provided us with the tools to offer vital support for those feeling vulnerable as well as fostering an even deeper sense of community and connectedness as we widened our reach and invited lots more people to join us. It has escalated our evolution as a creative space where ambitious thoughts can be expressed and realised, where stories continue to be told, heard and exhibited.
Join Our Community
Signup to be a part of the Manchester Street Poem Family
The form you have selected does not exist.
Get in touch
We're always looking for future collaborators. So, if you're looking to support us, get involved with us or commission us, don't hesitate to get in touch:
Simon Leroux (Project Manager)
Manchester Street Poem
110 Oldham Road,
Manchester,
M4 6AG